Jiangling Motors Co., Ltd. (JMC), recognized as a state high-tech enterprise, pilot enterprise for national innovation, enterprise technology center certified by state, state demonstration enterprise for intellectual property rights (IPR) and the national vehicle export base, has been ranked, for years in a row, among world top 100 most valuable automobile brands.

As a powerful force in China's automobile industry, JMC has built its core competitiveness in commercial vehicle and gradually stepped into SUV and MPV markets. Taking the leading efforts in introducing light duty trucks with world advanced technology into China in mid 1980s, JMC was one of China's major light duty truck manufacturers. Issuing successfully A share in Shenzhen Stock Exchange in November 1993, JMC became the first listed company in Jiangxi province, followed by B share issued through ADRs in 1995 to introduce foreign capital strategic partner, the first ever in China. At present, Ford Motor Company (Ford) holds 32% shares of JMC.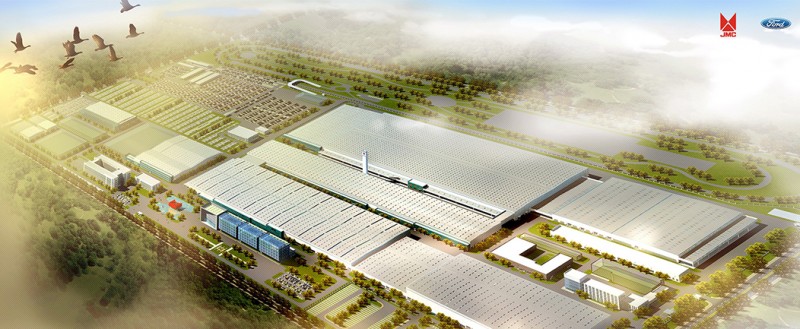 In addition to traditional energy vehicle plants including Qingyunpu plant, Xiaolan Plant and JMC Heavy Duty Vehicle Co., Ltd.(Taiyuan)which cover stamping, welding, painting and assembly lines as well as Gas & Diesel Engine Plant, JMC also kicked off the construction of Fushan New Energy Vehicle base in 2017. After building an intelligent manufacturing center with highly smart and flexible production line, JMC was recognized as a model enterprise that integrates smart and flexible technology by Jiangxi Provincial Government. Building its own core competitiveness gradually with the newly-established R&D system and world-leading digital design platform thanks to the support of Ford global platform, JMC is now developing, designing and launching new products synchronously with Ford and also among the first companies to get national certificates on IPR. Its independently developed Yusheng SUV and Carrying 800 won the "China's Patent Awards for Best Design"; Carrying 800 also won the first prize of China's Automotive Industry Awards for Science and Technology. Taking a forward-looking strategy, JMC is keeping up with the latest development of automobile industry, seizing the highland of new technology R&D with detailed plans and progress in car connectivity, new energy vehicle and autonomous driving.
Besides the three brands: Ford Brand, JMC Brand and Yusheng Brand, JMC also has world-leading diesel and gas engines. The premium product quality, fuel-saving and environmental-friendly technologies are the strong impetus for JMC to rise in the world. Taking the lead to set up a modern marketing system in China's automobile market, and following the franchise model of "sales, components, service and information combined", JMC has over 400 primary dealers and over 1,000 dealers in total. As a major exporter for China's light diesel commercial vehicles, JMC is rated as the "National Vehicle Export base" by the Ministry of Commerce and National Development and Reform Commission. JMC brand is also one of the two commercial vehicles export brands with major support from the Ministry of Commerce.
As a company that ushered in foreign investments very early in Jiangxi province, JMC has grown bigger and stronger rapidly with the support from its strategic partner-Ford. Taking in the world's most cutting-edge product technology, manufacturing process and management philosophy, JMC is efficiently and transparently operated and well managed based on high standard, rational balance mechanism of equity and normative management and operation mechanism. JMC has also won Governor Quality Award of Jiangxi province, National Quality Finalist Award and National Environmental Award, etc.
Following the public-interest principles of "green, caring and safety", JMC consciously shoulders its social responsibilities, proved by its star charity program, Jiangling Xiqiao Project, under which JMC has built 365 bridges in 24 provinces by now, benefiting over 600,000 villagers. JMC has received quite a few honorary titles including "China's Poverty Alleviation Ambassador", "Responsible China Non-profit Partner", "Excellent Award for Chinese Corporate Social Responsibility".
With existing accomplishments in place and broader horizon looking ahead, JMC people will integrate its core values, "Integrity, Innovation and Win-Win", into its lifeline. Inspired by the vision, "To Be the Best Partner of Smart Mobility and Logistics Solutions", JMC stands ready for the ever changing challenges brought by the new technologies in automobile industry and moves towards a brighter future.